Kawasaki, KRTS and BikeSafe celebrate shared values at National BikeSafe Show
Kawasaki is proud to have been part of the National BikeSafe Show at Rockingham on Saturday.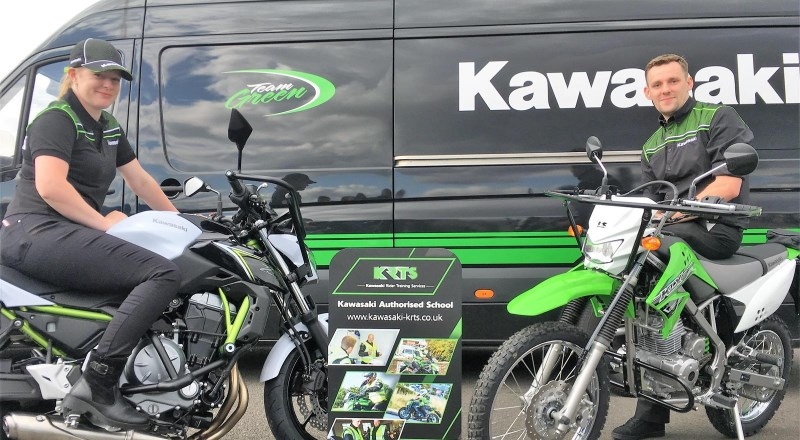 The BikeSafe show is supported by the Motorcycle Industry Association and runs in partnership with Northamptonshire Highways and Northamptonshire Police, in an effort to change rider attitudes and behaviour, and reduce the number of motorcyclists killed or injured on UK roads.
Kawasaki supports these values and had representatives from
Kawasaki Rider Training Services
 on-hand during the day to talk to visitors about learning to ride a bike and taking advanced rider training. Laura Merrett from KRTS school Phoenix Motorcycle Training in Bristol said:
"BikeSafe is a good show for us because visitors want to talk about learning to ride bikes and raising standards to keep riders safe. This sort of event raises awareness around the quality of rider instruction and the need for the high standard of training that Kawasaki Rider Training Services provides."

All KRTS schools are accredited by the Motorcycle Industry Association and offer the highest standards of rider training, and the MCIA's Sean Judge was on hand at Rockingham to explain why schools like KRTS are important to the bike industry.

"Schools like KRTS are a key part of what the MCIA is about because we want to have more people on bikes – out riding, enjoying themselves and seeing the benefits of bikes. Being able to work alongside Kawasaki, which makes very high quality machinery, and work with accredited schools that have proven themselves to a very high standard allows us to know that the people we are putting on the road will not only enjoy motorcycling the most but will also begin at a level that keeps them safe," he said

Kawasaki also caught up with a leading figure in the BikeSafe initiative, Chief Inspector Kev Mulligan, whose reasons for putting on the BikeSafe show chime with what Kawasaki wants to achieve with KRTS:

"Manufacturers such as Kawasaki are key to helping us deliver road safety messages. This event is about engagement and education of individuals and Kawasaki's presence here is a key part in helping us get that road safety and driver/rider attitude message across.

"If we can get driver/rider attitudes, behaviour and awareness altered from the start, our roads will become safer, which will encourage more people to start riding. We want more bikers on the roads, not just because of the ecological side of things, but also because it means less traffic and you're less likely to be caught in a traffic jam on a motorcycle or scooter. We welcome any opportunity to support cleaner and safer transport."

Throughout the day, more than 30 people took out a range of 2017 Kawasaki models, including the ZZR1400, Z1000SX, Z1000R, NInja 650 and Z900 out on the roads around Rockingham Motor Speedway. Visitors were also treated to stunt shows from Lee Bowers and were also able to get a taste of off-road riding with the Lee Dunham off-road experience.

For more information on Kawasaki Rider Training Services go to www.kawasaki-krts.co.uk.