Kawasaki Ninja and Z EV models Spark a New Era
From Kawasaki – a company with seventy years of motorcycle experience – a new era is about to dawn with the unveiling of two ground breaking battery powered, zero emission EV machines set to underline its "Go with Green Power" commitment unveiled at the 2022 EICMA motorcycle show.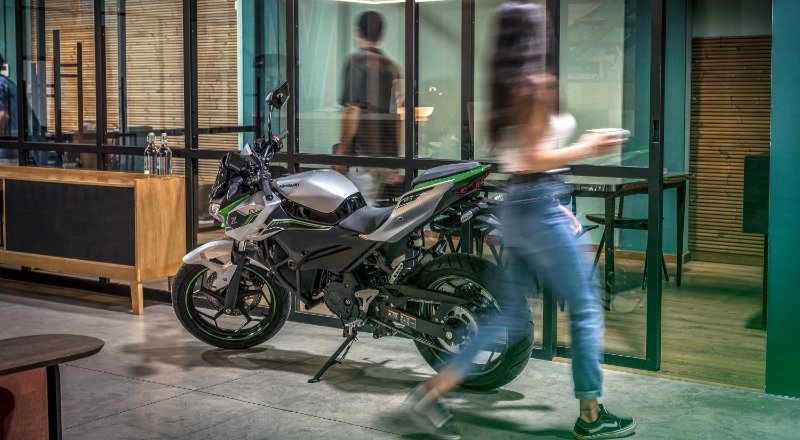 Created to sit proudly within the 125cc class of current motorcycles, the new Kawasaki EV machines will be available in Ninja and Z family styles as Z e-1 and Ninja e-1 with both able to boast mid-capacity type chassis and running gear specifications delivering typical Kawasaki fun to ride characteristics mated to zero emission desirability.


With a near silent and efficient brushless motor rated at 5kw (with a useful maxim of 9Kw on demand) this duo of EV models rely on an innovative twin (removable) battery solution with the batteries wired in parallel unlike competitors delivering the advantage of more efficient charge usage. Enjoying a variety of charging options this twin battery configuration allows the sort of portability that heavy single item applications simply prohibit.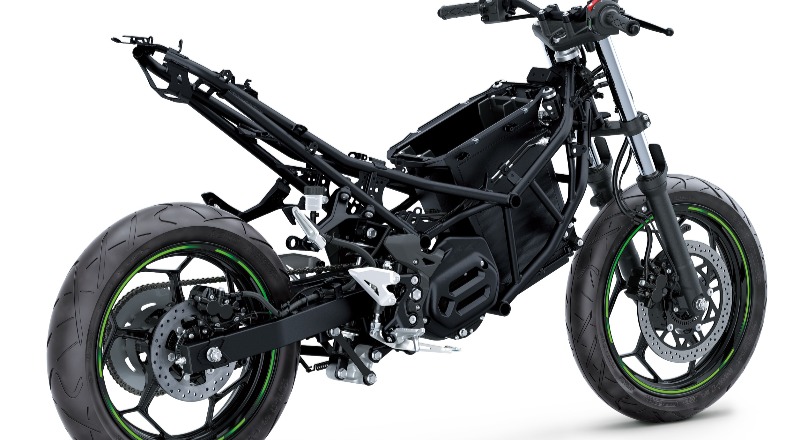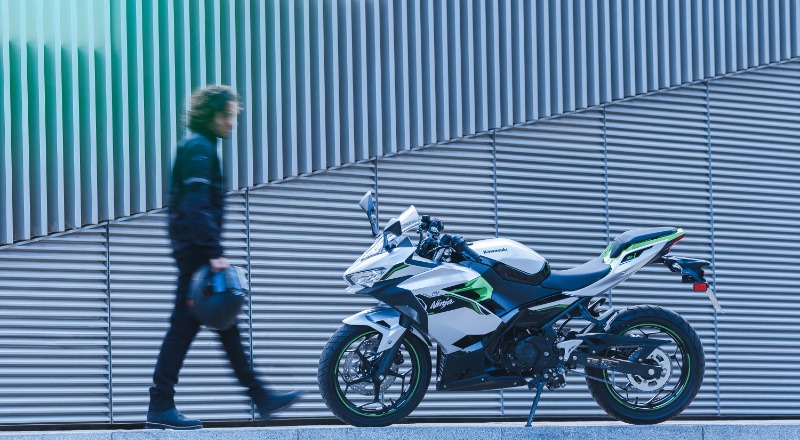 Clutchless, with no gears to change and with a simple "twist and go" riding style, the fun to ride feeling is augmented by some clever rider-centric features such as two riding modes (Road and Eco) plus an exciting "e-boost" option delivering an on-demand max of 9kw of power and acceleration (plus a potential top speed of 99kph where permitted) over a short distance thanks to a e-boost button on the right bar under the twist grip.
Kawasaki Z e-1 and Ninja e-1 riders can also amaze their friends with a walk mode that allows these machines to manoeuvre at walking pace in both forward AND reverse – particularly useful for tight parking spots or moving backwards up an incline. 
Enjoying a unique Metallic Bright Silver and Metallic Matte Lime Green appearance – which is to be the signature livery of future Kawasaki EV models – the rider view is pleasingly dominated by a TFT meter with smartphone connectivity. Relaying such things as machine riding status, range, availability of boost function and riding level selected (Road or Eco), the TFT meter seamlessly combines with the easy-to-use throttle and 400cc motorcycle class ABS brakes and trellis type chassis to create genuine on road presence and the riding reassurance that has so far been missing in the entry level EV powered two-wheeler class. 
Charging options include a charge docking station which a battery can be placed in or via a lead which can link the off-board charger unit to the machine via an under-seat socket with batteries still in place. Cool features about the advanced Li-Ion batteries include inbuilt charge indicators plus a symmetrical design allowing easier placement within the machine plus a handy lockable stowage area above the batteries below the battery cover.   
With a range of accessories including +30mm Ergo-Fit seats and various charging solutions, the naked Sugomi style Z e-1 and sleek fully cowled Ninja e-1 models from Kawasaki are set to create another chapter in the company's illustrious history and open the door to a greener future for two-wheel fans globally – truly a spark of innovation for a new era.   
Both machines will arrive in the UK next month, with prices to be confirmed soon.